Data feed manager
Whether you work with a separate feed or webshop software, the data feed manager of Marktfeed ensures that you only need to do your basic settings once. After that, the correct and required data settings will be made automatically.
Your data is the basis
Do you have a loose XML, CSV or JSON format? Then you can easily read it in and set up the feed management tool so that you can publish your products to Marktplaats. This is one-way traffic.
Do you use a webshop software link as an import? Then you can also optimise and publish your products.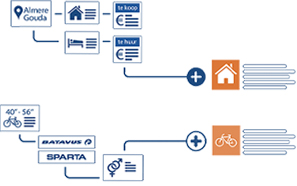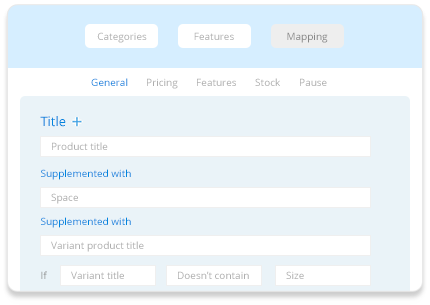 Mapping of headings and attributes
Link your fields and headings via the 'mapping' to those of Marktfeed. Make use of smart business rules (if-this-then-that) to solve possible mismatches or to create a better title, for example. After that, you are basically done with the sales channel Marktplaats.
Through the 'channel settings' you can adjust the general mapping and make it suitable for Marktplaats. For example, you can set different prices, shipping costs and pause rules.
The best support
No notice periods
Test with live data

Frequently asked questions
Can I try it for free?
Yes, you can try the Standard account of Marktfeed free of charge for 30 days. The set-up is free and without obligation.
How do I pay?
You pay via iDEAL when you register, then via direct debit on the renewal date. You will receive a VAT invoice.
Am I stuck with a contract?
We don't like that, you can switch to another account type or stop at any time. There is no notice period.