The settlement model of Marktplaats
The Marktplaats payment model works on the basis of CPC (Cost per Click) and does not involve any
registration or subscription costs. You only pay for the clicks that your ad receives.
You only pay for ad clicks
The click price is calculated the moment a Marktplaats-
visitor clicks on one of your Marktplaats ads. You control these costs yourself, because when you create an ad you can enter what you want to pay for one click.
Per advertisement you can set a Cost-per-Click amount starting at € 0.01. The height of the CPC also determines the position at which the advertisement is shown. This differs per advertisement and per category.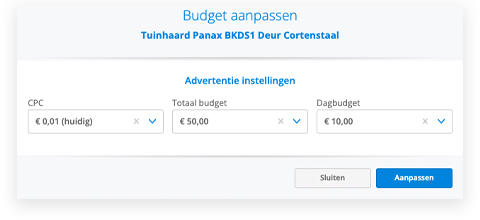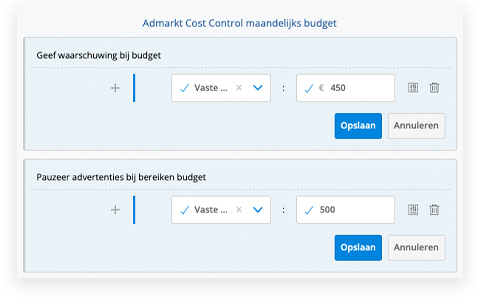 Marktplaats Pro (Admarkt) Cost Control
For each advertisement you can set a budget that indicates the maximum amount you want to spend on the advertisement. To activate the advertisement you need a starting budget of €50,- but you only pay for the actual clicks on your advertisement(s).
Through Marktplaats Pro (Admarkt) Cost Control (available in the Marktfeed Complete account) you can set a total monthly budget which you want to spend the maximum. At 90% of the set budget, we will send you a notification, and at 100% of the set budget, we will pause your advertisements. This way, you will always have control over your costs.
The best support
No notice periods
Test with live data

Frequently asked questions
Can I try it for free?
Yes, you can try the Standard account of Marktfeed free of charge for 30 days. The set-up is free and without obligation.
How do I pay?
You pay via iDEAL when you register, then via direct debit on the renewal date. You will receive a VAT invoice.
Am I stuck with a contract?
We don't like that, you can switch to another account type or stop at any time. There is no notice period.