Advertise on Marktplaats
Marktplaats Pro (Admarkt) is a quick and easy way to sell targeted products,
build up brand awareness and generate traffic to your web shop.
The benefits of Marktplaats
Marktplaats attracts over 8 million visitors per month, and 40% of these are looking for new products. Marktplaats Pro (Admarkt) offers you the opportunity to easily and effectively advertise within Marktplaats. Marktplaats is ideal for generating purchase-oriented website visitors, brand awareness and for realising direct sales within your own webshop.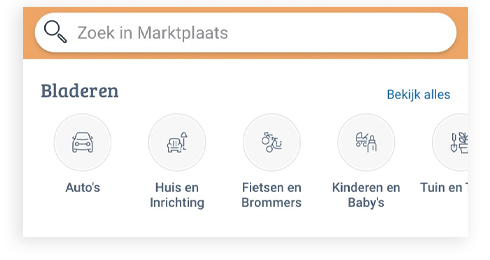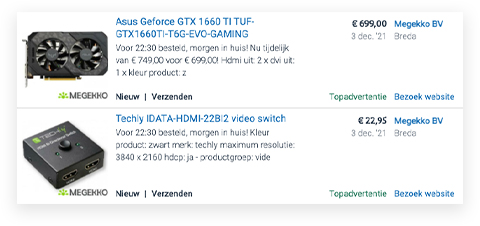 The best positions and a free website link
With Marktplaats Pro (Admarkt) your advertisement is always shown at the top of the results page in Marktplaats . Your ad is therefore on the best viewed positions within Marktplaats. This generates great visibility among the millions of visitors of Marktplaats.
When creating an ad, you have the option of adding a website link free of charge. The link can refer to the homepage, or lead to the product page on your webshop for direct sales to potential customers.

The Marktplaats seller's page
As an Marktplaats Pro (Admarkt) advertiser you have a seller's page
page where all your ads are displayed. With this seller's page you can show your business to your potential customers and stand out from the competition.
You can design the seller's page yourself by adding a company logo, a good description of your company, contact details and images.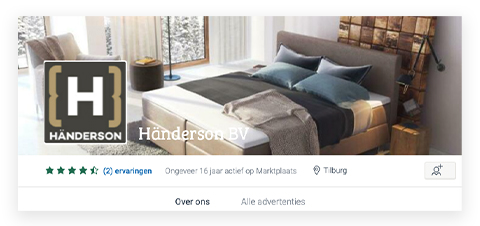 The best support
No notice periods
Test with live data

Frequently asked questions
Can I try it for free?
Yes, you can try the Standard account of Marktfeed free of charge for 30 days. The set-up is free and without obligation.
How do I pay?
You pay via iDEAL when you register, then via direct debit on the renewal date. You will receive a VAT invoice.
Am I stuck with a contract?
We don't like that, you can switch to another account type or stop at any time. There is no notice period.